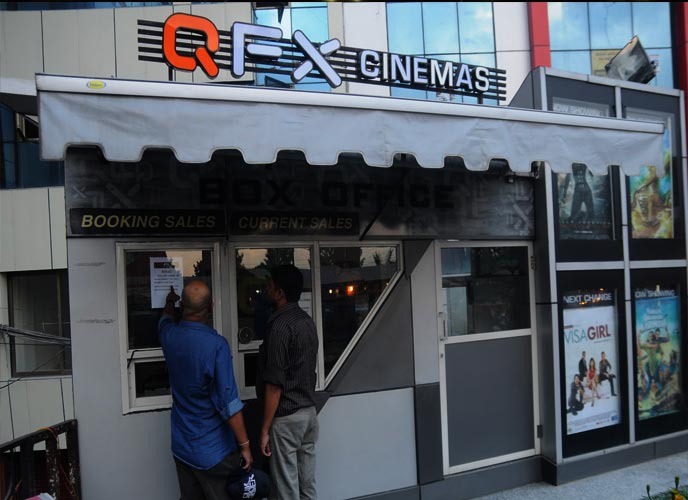 Movies have been one of the most significant sources of entertainment in Nepal since 19th century. They are now an integral part of the Nepali people.
Over the last 50 years, the Nepali film industry has produced several movies, many of which cast a critical eye on the upheavals that beset the country over the past few decades and an insightful glimpse into the beauty of the Himalayan mountains.
Well, if you are willing to enjoy movies with comfort and luxury, the famous cinema halls of Nepal are there to help you out. Choosing the best movie theatre might be a great way to take your movie time to the next level. So, here are the top movie halls in Nepal, just for you!
Top 10 Best Movie Theatres in Nepal
1) QFX Cinemas
QFX Cinemas is the most famous movie theatre chain in Nepal, with halls in major cities, including Kathmandu. It screens Nepali movies as well as Bollywood and Hollywood pictures. Lavish seating, great audio-visual effects, and imperial ambiance fully amaze your presence for 2-3 hours. Online ticket booking and payment options provide a hassle-free experience.
Venues: Civil Mall (Sundhara), Kumari Hall (Putalisadak), Labim Mall (Pulchowk), Jai Nepal Hall (Narayanhiti Path)
Ticket cost: NPR 155-560
Contact: 01-4442220
Website: qfxcinemas.com
Also Read: Top 21 Tourist Attractions in Kathamandu – Watch Video
2) Big Movies
Being Nepal's first multiplex, Big Movies is one more quill to the collection of best movie halls in the country.
Providing a world-class auditorium with Barco 2K latest digital projector systems, great sound system, crystal clear display, and luxurious and comfortable seats, Big Movies has taken movie watching experience to new heights. It has three screens with a capacity of 870 seats.
Venue: City Center Mall, Kamalpokhari
Ticket cost: NPR 185 – 350
Contact: 01-4011645
Website: bigmovies.com.np
3) Q's Cinemas
The perfect blend of mind-blowing audio-visual effects, world-class ambiance, plush seating, and luxurious services make Q's Cinemas an absolute delight for movie freaks.
It has two swanky theatres that are designed and built to provide the best movie-watching experience.
Venue: Rising Mall, Durbarmarg
Ticket cost: NPR 180 – 510
Contact: 01-4169201
Website: qscinemas.com
4) Fcube Cinemas
The Fcube Cinemas is one of the newest and most premier cinema halls in Kathmandu. The theatre is equipped with cutting-edge technologies such as Dolby 3 Ware Digital sound systems and digital 2K projection view, making it a worth visiting place for all movie lovers.
The modern decor adds a luxurious touch to this high-tech cinema hall. While the other famous theatres in Kathmandu are located in the busiest parts of the city, Fcube is situated on the other side, making it convenient for movie goers to reach the theatre.
Venue: KL Tower, Chabahil
Ticket cost: NPR 175 – 500
Contact: 01-4468700
Website: fcubecinemas.com
5) Cine de Chef
As the name suggests, Cine de Chef (CDC) is a combination of Cinema with Dining. By offering all the facilities of a 5-star restaurant serving, finger foods, Indian, French, Thai, and French, CDC adds delightful experience to movie watching.
Leather recliner chairs with touch sensors, inbuilt back massager, chauffer call button and many other distinctive features make this theatre a worth visiting place for all cinema lovers.
Meyer EXP Sound system, Christie Digital 2K and 4K Projectors, and ambiance are just the icing on the cake for CDC moviegoers.
Venue: Civil Trade Center, Sundhara
Ticket cost: NPR 250 – 800
Contact: 01-4248402, 01-4257773
Website: cdcnepal.com.np
6) Gopi Krishna Cinemas
With seven giant screens and a seating capacity of 3000, Gopi Krishna Cinema is one of the oldest and the biggest cinema halls in Nepal. Showcasing Nepali movies on a daily basis, this theatre aims at promoting Nepali movies.
Moreover, Gopi Krishna provides a 50% discount on morning and evening shows from Sunday to Thursday, making it one of the must visit cinema halls in Kathmandu.
Venue: Chabahil, Kathmandu
Ticket cost: NPR 100 – 300
Contact: 01-4812409, 01-4812393
Website: gkmovies.com.np
7) BSR Movies
BSR Movies is the first multiplex in Nepal to be equipped with the Dolby Atmos sound system. It features two screens with a capacity of 166 seats each.
Luxurious seating, digital 2k projection, and 3D  are equally charismatic for a quality movie watching experience.
Venue: BG Hall, Gongabu
Ticket cost: NPR 190 – 445
Contact: 01-4362712, 01- 4383292
Website: bsrmovies.com
8) iNi North Cinemas
Established in 2019, iNi Cinemas is a new, upcoming, and premier cinema chain in Nepal. It features two giant screens with a total seating capacity of 335.
It is a state-of-art movie theatre which provides excellent audio-visual quality, lavish seating, and luxurious services.
Venue: Karmacharya Complex, Gongabu, Kathmandu
Ticket cost: NPR 190 – 350
Contact: 977-1-4364540, 01-4352325
Website: inicinemas.com
Some other famous movie theatres in Nepal are:
9) Movie Garden
10) Cinema Under The Moon
11) 12d Cinema
12) Kalpana Cinema Hall
In Conclusion
Well, these are the top 12 best movie theatres in Nepal, which can make movie watching an experience in itself. Tinged with luxury and armed with cutting edge tech, Nepal is a paradise for movie lovers. If one stumbles upon the chance to soak in the experience, be sure to visit any of the listed movie theatres and have a memorable time.
More News:
Nepal Most Popular Audiobooks!
Nepal Silver Price Rates Today!
Richest Nepalese in the World
Gold Price Today in Nepal!
Miss Nepal Beauty Pageants 1994-2020!
Nepali Short Films on YouTube!
Coronavirus in Nepal Overview, Symptoms, Precautions and Updates
The post 12 Best Movie Theatres in Nepal You Must Try! appeared first on Nepali Sansar.