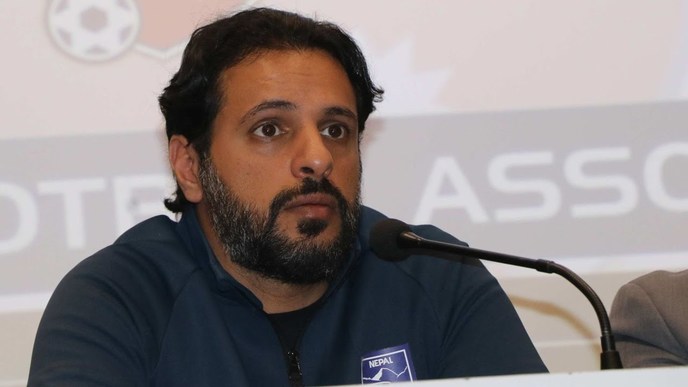 The All Nepal Football Association (ANFA) has appointed Kuwait's Pro Licensed coach Abdullah Almutairi as the new head coach of the national football team.
Abdullah, who is also an AFC coaching instructor, is replacing the head coach Bal Gopal Maharjan who had recently honed the Nepali team to win the Three Nations Cup.
However, the ANFA has appointed Abdullah as the new head coach as the FIFA World Cup qualifiers require a pro-licensed coach.
The new coach is now bestowed with the responsibility of helping the Nepali team shine in the remaining three games in the World Cup qualifiers and the SAFF championship. He had reached Nepal on April 22 with the help of the Qatar Football Association.
Kuwaiti coach Abdullah has earlier trained Qatar's Al Shahani Football Club U-23 and Kyrgyzstan U-17 teams and also worked for clubs in Saudi Arabia and Kuwait.
Stay Tuned to NepaliSansar for Latest Nepal Sports News!
---
More News:
The post Kuwait's Abdullah Becomes Head Coach of Nepal Football Team! appeared first on Nepali Sansar.