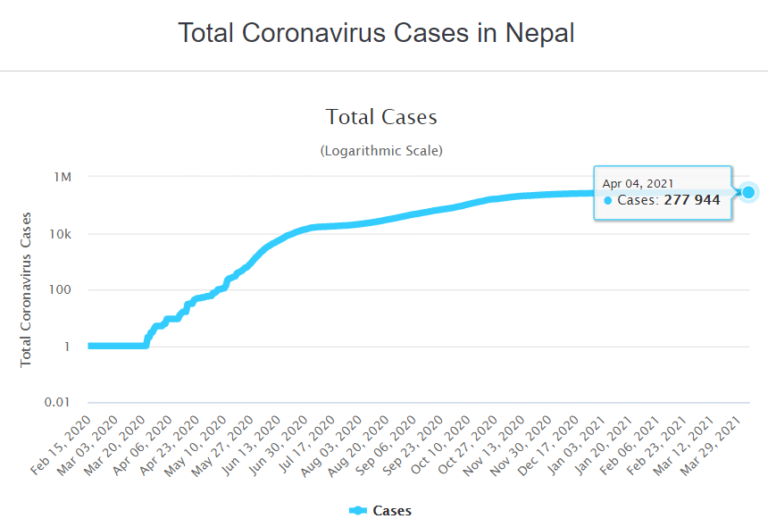 Nepal on Sunday reported 176 new coronavirus positive cases, indicating a COVID-19 resurgence in the country. With this, the nation's COVID-19 caseload reached 277,944.
Of the total cases recorded lately, Kathmandu reported 87 new infections, while Lalitpur and Bhaktapur recorded eight and four new cases, respectively.
Meanwhile, a total of 117 patients have recovered in the last 24 hours, taking the total recovery cases in the country to 273,240. Nepal's recovery rate now stands at 98.3%.
As of today, the active cases in the country stand at 1,672. However, there are no new death cases in Nepal. The death toll now stands at 3,032.
According to the Ministry of Health and Population (MoHP), around 3,456 PCR tests were conducted in the last 24 hours. With this, a total of 2,285,288 PCR tests have been conducted in the country so far.
Globally, several countries are showing signs of a resurgence of coronavirus infections merely a few months after witnessing a significant decline in cases. As a result, many governments are bracing themselves for a second wave. Spain, Australia, India, and Iran are a few countries witnessing coronavirus resurgence.
Stay Tuned to NepaliSansar for Nepal Coronavirus update with statistics and graphs!
The post Live! Nepal Reports 176 New Cases, Indicating COVID-19 Resurge! appeared first on Nepali Sansar.