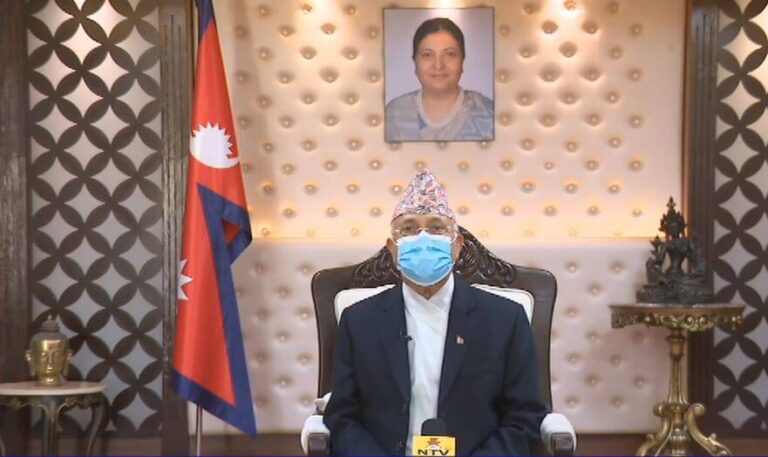 Addressing the nation on Monday, PM KP Sharma Oli has informed that the Nepali Government has decided to operate medical colleges, large public and private hospitals across the country as COVID-19 hospitals. The decision comes in the wake of the devastating second wave of the coronavirus pandemic.
As the second wave of COVID-19 infections stretches out and spreads across the country, Nepal has recorded more than 7000 cases for the second straight day.
In the last 24 hours, Nepal has recorded 7,388 new cases, the highest number of fresh cases in a single day since the pandemic outbreak. With this, the total number of cases in the country reached 343,418. Currently, there are 54,041 active cases and 286,015 recovery cases in the country.
Meanwhile, 37 people have succumbed to the virus in the last 24 hours, pushing the nation's death toll to 3,362.
In a bid to deal with the sudden surge in coronavirus cases, the government has directed the Nepal Army (NA) to construct a 1,000-bed temporary hospital in every state and the capital, according to the PM.
He said that the government had intensified efforts to build primary hospitals with 5 to 15 beds capacity at all local levels.
PM Oli also informed that the new building of Bir Hospital and the Tri-Chandra Military Hospital of the Nepal Army would be operated as COVID-19 hospital.
All the large public and community venues, including stadiums, party palaces, meeting halls, hotels, factories, and other structures, would be temporarily transformed into well-equipped quarantine, isolation centers, and holding centers to tackle the second wave, said the PM.
Stay Tuned to NepaliSansar for Latest Nepal COVID-19 Updates!
More News:
Upasana Nepal's First Female CEO of Insurance Company
Nepal's Daily COVID-19 Cases Hit Record High
Nepal Bans All Domestic, Int'l Flights Till May 14
PM Oli to Take Floor Test in Parliament on May 10!
Karnali Province To Provide NPR 100,000 Ex Gratia for COVID-19 Deaths
The post Nepal To Operate Medical Colleges, Large Hospitals as COVID-19 Hospitals! appeared first on Nepali Sansar.