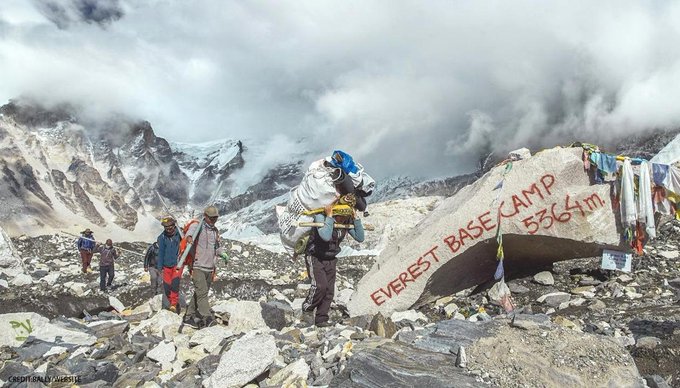 Though the tourism sector has been affected disproportionately by the coronavirus pandemic, a group of climbers in Nepal turned the crisis into an opportunity.
The pandemic has turned busy tourism spots into secluded destinations, and a climbing community in Nepal has leveraged this tourism hiatus to clean Mount Everest. They spent 47 days collecting and cleaning around 2.2 tons of trash and garbage scattered around the Mount Everest base camp.
A Swiss luxury brand launched an initiative called Bally Peak Outlook to preserve the world's tallest mountains and extreme environments from the consequences of excessive tourism and global warming.
So, a group of Nepali climbers and environmental activist Dawa Steven Sherpa partnered with the brand and locals and started an initiative in 2008 to remove trash from the mountains. A team of 12 climbers cleaned the eight highest peaks in Nepal.
Last fall, a #BallyPeakOutlook expedition embarked on the first phase of our #8X8000M pledge to clean up the base camps of Nepal's eight 8,000m mountains. Over 47 days, 2.2 tons of waste were removed from Cho Oyu, Everest, Lhotse and Makalu. Learn more at https://t.co/k4aTRjwhWk pic.twitter.com/Drnj4J26lQ

— BALLY (@Bally) March 29, 2021
A series of five short video clips capturing the expedition team cleaning Nepal's eight highest mountains was released recently.
The latest initiative to clean Mt. Everest was earlier scheduled to start in early 2020 but was delayed to late September due to the pandemic.
"When we take away garbage from the mountains, it must feel to the gods like taking a thorn out of their finger," said Steven Sharma, adding that the mountain is their spiritual home, and they feel it's their right and responsibility to protect it.
Stay Tuned to Nepali Sansar for the latest news on Nepal Tourism!
The post Nepali Climbers Cleaned 2.2 Tons of Garbage from Mt. Everest! appeared first on Nepali Sansar.